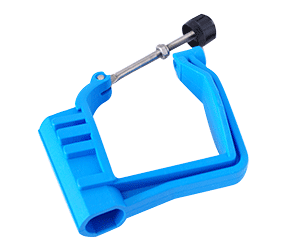 Complete Swivel with inserts
Rowing Swivels
Our swivels are simple and effectively designed. They are a proven performer, economical, easy to use, compatible with most oars and known to extend the life of Croker sleeves. We recommend our Croker swivels to be used with Croker oars.
Black swivels are available on request.
Locking Plates
All adjustable carbon rowing handles are fitted with a locking plate. This is what holds the handle in place in the oar and also allows for adjustment of the handle. These come with 2 M5 x 20 stainless steel bolts and M5 stainless steel washers.

Spacers - Horseshoes rowing
Spacers / Horseshoes
Our Rowing spacers are 10mm in width. These are an ideal way to change your inboard and save moving your buttons.
Red - Stroke side
Green - Bow sided
Rowing Oar Bag
Handmade from PVC waterproof material, padded lining, velcro opening, carry handle, inside divider. Extremely durable construction designed for travel. A great way to keep your Croker Oars protected.
Size: Rowing Bag (2 Oars)
Custom bags made to order are also available.
​